Iolas Blue
Iolana iolas
---


Male, Switzerland, June 2014
Male, Switzerland, May 2006
Male, Switzerland, May 2008
Male, Switzerland, May 2006
Female, Switzerland, May 2017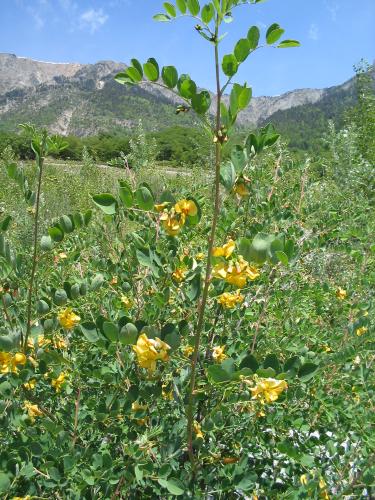 The habitat - a bladder senna bush
Female, Switzerland, May 2007
There is a video of this female laying eggs HERE
Female, Switzerland, May 2007
Female, Switzerland, May 2007
Female laying in the calyx of bladder senna, Switzerland, May 2007
Female laying in the calyx of bladder senna, Switzerland, May 2007
Male, Switzerland, May 2005
Male, Switzerland, May 2005
Male, Switzerland, May 2005
These are the seed capsules of bladder senna, in which the caterpillars grow.
This is a bladder senna bush with almost all the flowers developed into seed pods...
... while this is another, in the same site, on the same day, with mostly flowers. The male blues show much more interest in these yellow bushes.

This is the largest European blue (on average very slightly larger than the large blue, its closest rival) and a magnificent insect. It is quite unmistakable in the flesh, having a remarkable, powerful and direct flight that distinguishes it from superficially similar butterflies even at a distance. Other butterflies flap their way from bush to bush. Iolas blues simply step from one feeding post to the next.

As well as being so naturally aristocratic, iolas blues are (sadly) rather scarce insects. They are typically southern and eastern butterflies, frequenting hot, rocky slopes where their foodplant, the bladder senna, grows. In Switzerland they only fly in the Rhône Valley. A further difficulty for the iolas blue hunter is that they do not form tight colonies around foodplant concentrations, as so many blues do, but wander daily several kilometres, stopping to feed on the foodplant (presumably hoping to meet a mate there) but not hanging around for long. A Swiss expert told me it was good to see two or three in a day.

An interesting piece of trivia: the last person officially to record an iolas blue at Bex (actually, near Bex), my first point of call when I visit the Valley, was Vladimir Nabokov, of Lolita fame - a noted lepidoperist who lived in Switzerland towards the end of his life.