Large Copper

Lycaena dispar
HOME
Female, June 2013, Switzerland
Male, Switzerland, May 2014
Male, Switzerland, May 2015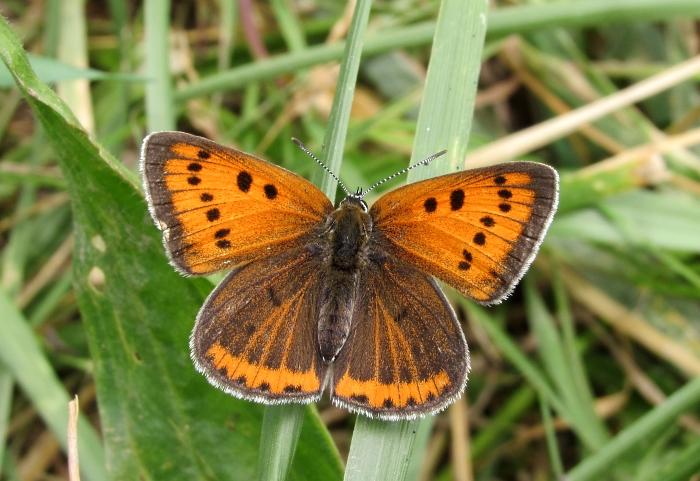 Female, Switzerland, May 2015
Female, Switzerland, June 2017
Male, Switzerland, May 2015
Male, Switzerland, August 2013
Male, Switzerland, May 2014
Male, Switzerland, August 2013
Male, France, August 2008
Male, France, August 2008
Female, France, August 2008
Male, Hungary, July 1994


Egg, Switzerland, May 2017
Eggs, Switzerland, May 2017
1st instar larva, Switzerland, June 2017


This is a wetland butterfly with a wide distribution in central and eastern Europe but generally scarce and difficult to find, due to a combination of the increasing destruction of wetland habitats and the low density of the butterfly at its sites. The last adult picture above, from Hungary, shows my first large copper, which until 2008 was also my only large copper! In August 2008 Tim Cowles took me to some French sites, at one of which we found 5 or 6 large coppers, including one female. Since then I have found them at three places in Switzerland, where the butterfly seems to be on the increase.


In France, the butterflies were concentrated around yellow daisy flowers in the wettest parts of the meadow, where an overgrown water channel crossed it. Although they seemed to enjoy sitting around on leaves sunning themselves the only plants they nectared on were these yellow ones - they spurned the hemp agrimony and all the other herbs flowering abundantly in the field. I noticed the same thing with the male I saw in August 2013 - it only nectared on those same yellow flowers.


From the upperside the males of this species look like scarce coppers but the underside is quite different. The females are unmistakeable from above or below.

The butterfly has a sad history in England, having been discovered in the East Anglian wetlands in the middle of the 18th century only to be driven to extinction by collectors by the middle of the 19th century. The British race was even larger and brighter than the continental race, though a similar race flies in Holland - it was this race that was reintroduced to East Anglia (Woodwalton Fen, Hunts). The reintroduction was successful but the colony was not self-sufficient and the butterfly is (I believe) currently extinct again in England.