Male (on left) and female, Aragňn, July 2017
Male, Aragón, July 2017
Aragón, July 2017
Male, Aragón, July 2011
Male, Aragón, July 2011
Close-up of androconial scales
Male, Aragón, July 2011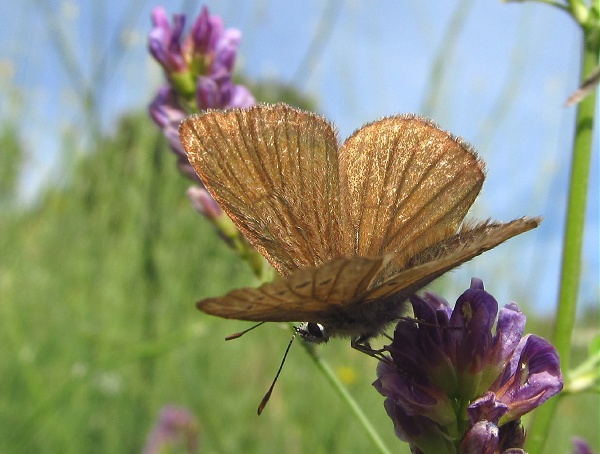 Male, Aragón, July 2011
Male, Aragón, July 2011
Male, Aragón, July 2011
Male, Aragón, July 2011
Male, Aragón, July 2011
Male, Aragón, July 2011
Female, Aragón, July 2011
Female, Aragón, July 2011
Aberrant female, Aragón, July 2011
Upperside of the same butterfly
Distribution
Current thinking is that this taxon is a subspecies of Ripart's anomalous blue,
Polyommatus ripartii
. This is problematic to me as I find it flying in the company of Ripart's anomalous blue over a large area in Aragón. It was formerly considered a subspecies of Oberthür's anomalous blue and this would make more sense in this context, but I believe genetic analysis has ruled out this relationship. For the time being I am keeping this page separate from Ripart's anomalous blue, in the knowledge that something I do not fully understand is going on here!
The most obvious feature of Agenjo's anomalous blue is the vestigial or absent white stripe on the underside of the hindwing. In males in particular it is often absent, while in females there is commonly, but not always, a short white stripe. The white strip in Ripart's anomalous blue is strong and constant in the subspecies that should be flying where I see these butterflies.
The butterflies I identify as Agenjo's anomalous blues are on average slightly smaller than those I identify as Ripart's. Behaviourally, too, they are different. I spent a long time trying to photograph the upperside of male Ripart's, without any real success at all the first year (2011) and with limited success the second (2017). But on the same days, 'Agenjo's' were far more willing to show the uppersides and I was able to get good shots of the androconial patches.
The life cycle and ecology of this taxon is the same, so far as I am aware, as that of Ripart's anomalous blue. Certainly, I found them in exactly the same places. The caterpillars feed on sainfoin and hibernate while small.