Almond-Eyed Ringlet

Erebia alberganus
---
HOME
Refresh page if pictures don't load fully:
Female, Switzerland, July 2019
Female, Switzerland, July 2019
Mating pair, male on left, Switzerland, July 2018
Switzerland, July 2016
Switzerland, July 2018
Switzerland, July 2010
Prey to a spider, Switzerland, June 2011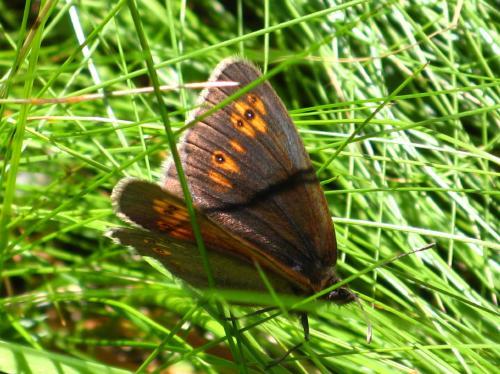 Switzerland, June 2007
Switzerland, June 2007




Distribution


This distinctive

Erebia

is common in some parts of the Alps - in eastern Valais, for example - but absent from others, including the mountains near me in Vaud. Where it is found, it is often the most numerous ringlet and quickly becomes something you dismiss while looking for something else. This is a shame as it is beautiful creature and worth dwelling on. It nectars frequently - when it is very wary of approach - but rarely comes to mud or minerals, so while I have seen many thousands, I have found it difficult to get good photographs.

Although this is a very variable butterfly - especially in size - it is always easy to identify by the combination of almond-shaped eyespots and the fact the underside is marked the same as the upperside. Some woodland ringlets, which are also the same above and below, may look similar, but never have quite such well defined almonds.

Foodplants include sheep's fescue and sweet vernal grass. The species hibernates as a caterpillar and completes its life-cycle in a year, flying in a single brood from June to August. It is a butterfly of upland meadows with long grass, often near woods, and can be seen from about 1000m up to 2200m - so not in the highest alpine regions.