Alpine Grayling

Oeneis glacialis
---
HOME
Refresh page if pictures don't load fully:
Switzerland, July 2013


Switzerland, June 2018




Switzerland, July 2017



Switzerland, July 2015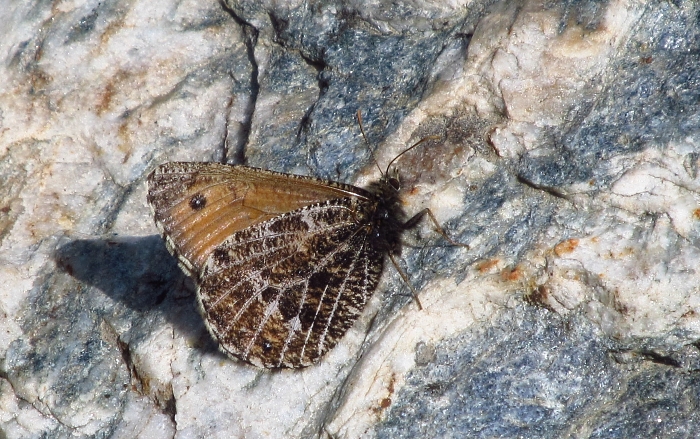 Switzerland, June 2012




Switzerland, June 2011




Switzerland, June 2011
Switzerland, July 2008
Switzerland, June 2007
Switzerland, June 2007
Switzerland, July 2006


Distribution


This very distinctive grayling is the only member of its genus to fly in the Alps - or indeed anywhere in Europe outside Scandinavia and the Baltic states (the Norse grayling, Oeneis norna, and the Arctic grayling, Oeneis bore, are broadly similar, though smaller, while the Baltic grayling, Oeneis jutta, is really very different in appearance). It is found at altitude (officially, above about 1400m, but I have never seen it so low) in rocky, grassy places, where it loves to rest on exposed surfaces (never showing the upperside of the wings) or take minerals on damp ground.


The flight is typically grayling - rather swoopy-bouncy, but very strong - but the plain orange underside forewing gives it away even on the wing and once it settles there is nothing that resembles it at all within its range. Like all graylings, it shows most of the forewing underside when it first lands, dropping the wing later, when it thinks it is not being observed, so as to disappear. The eyespots of the forewing are to scare predators, while the cryptic colouration of the hindwing is for concealment. This is very effective: they are extremely difficult to spot when they have settled down, and you often only see them as they fly up from almost under your feet.

The larval foodplant is sheep's fescue. The caterpillar hibernates twice, taking two seasons to complete its development.