Alpine Heath
Coenonympha gardetta
---
HOME
Refresh page if pictures don't load fully:
Switzerland, July 2015


Switzerland, June 2014




Switzerland, July 2016




Switzerland, June 2018




Switzerland, September 2014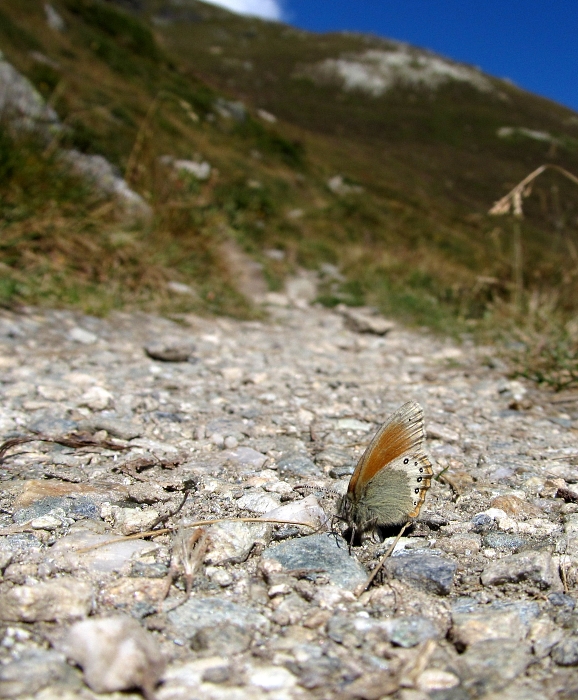 Switzerland, September 2014




Switzerland, July 2013




Switzerland, July 2009

Switzerland, long ago ...




Distribution
The statuses of alpine heath (Coenonympha gardetta), Darwin's heath (Coenonympha darwiniana) and the Piedmont heath (Coenonympha macromma) are disputed. Most authors regard them all as subspecies of the first but some - e.g. Leraut - treat them as separate species. Alpine heath and Darwin's heath freely interbreed where they meet, and in Valais, in Switzerland, intermediate forms are common - indeed, the norm towards the eastern end of the Rhône Valley. Of the three, the alpine heath flies the highest and probably represents the original departure from pearly heath - the lowland species from which they all probably derive. It is also the most widespread and is common throughout the alpine region.

A pure alpine heath has a grey underside hindwing with ermine trimmings - a broad, white band containing white-pupilled, black spots. The spots are not obviously ringed in white or yellow, though when the band is narrow and they edge out of it, they can be seen to have a white surround. In contrast, pure Darwin's heath has obvious yellow rings, bordered dark. In alpine heath, the uppermost spot is within the white band, towards the outside, while in Darwin's heath it is on the inner edge of the band, or even partly in the brown area inside, as in pearly heath. The underside of the forewing is typically greyish in alpine heath, though some individuals, especially hybrids with Darwin's heath, may be very orange. The Piedmont heath is similar to Darwin's heath, and similarly distinguished from the alpine heath. It flies in Piedmont and the alps of south-east France.

The caterpillars feed on various grasses and it is this stage that hibernates. The adults fly in a single generation from June (or July at higher altitudes) until September.