Asian Fritillary
Euphydryas (Hypodryas) intermedia wolfensbergeri
---
HOME


Male, Switzerland, June 2012




Male, Switzerland, 2018





Female, Switzerland, July 2013




Male, Switzerland, July 2019




Female, Switzerland, July 2013



Male, feeding on thyme, Switzerland, June 2018



Female, feeding on rhododendron, Switzerland, June 2018




Switzerland, July 2013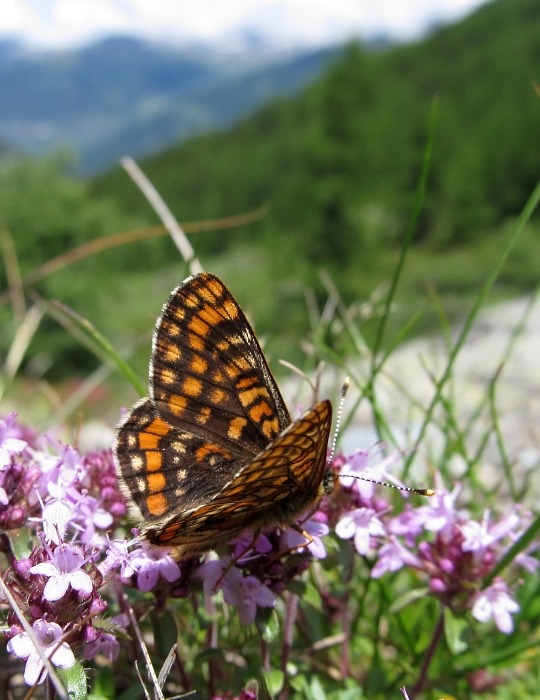 Male, Switzerland, July 2013




Male, Switzerland, July 2013


Female, Switzerland, June 20012




Male, Switzerland, June 2011




Female, Switzerland, June 2011


Female above, male below, Switzerland, June 2007




Male, Switzerland, July 2010


Switzerland, June 2007


Male, Switzerland, June 2007



Male, Switzerland, June 2007


Male, Switzerland, June 2007


Distribution

This lovely butterfly flies very locally in the Alps, where it is represented by subspecies
wolfenbergeri
. Its English name, the Asian fritillary, reflects the fact it is far more widespread further east, from the Urals, across Russia and Siberia to China and Korea. Our populations cannot have had any contact with these Asian populations for thousands of years. It flies in woodland clearings and open hillsides near woods, in association with its sole foodplant, blue honeysuckle (
Lonicera caerulea
). In Switzerland, I see it principally between about 1800m and 2000m, but it is said to fly from 1500m to 2400m across its range. It loves to nectar on thyme and rhododendron, both of which are plentiful at my main site, often together with false heath and pearl-bordered fritillaries.
Although superficially similar to other
Euphydryas
species, it is unlikely to be confused with any because of its very particular habitat and geographical location. Marsh fritillaries do fly in the same sites, but these almost always show strong dark post-discal spots on the hindwing - absent in the Asian fritillary. On the underside, the Asian fritillary has a narrow black line dividing the pale discal band of the hindwing. It is all in all a very distinctive butterfly. Only the scarce fritillary,
Euphydryas maturna
, is really similar, and in Europe this doesn't fly in the same places, nor above about 1000m (according to Tolman, the two species are sympatric in parts of East Asia).
Eggs are laid in batches on the undersides of blue honeysuckle leaves. The caterpillars hibernate twice, taking two seasons to complete their development, and the butterflies fly from the end of June until the end of July or into August.