False Ilex Hairstreak
Satyrium esculi

---
Refresh page if pictures don't load fully: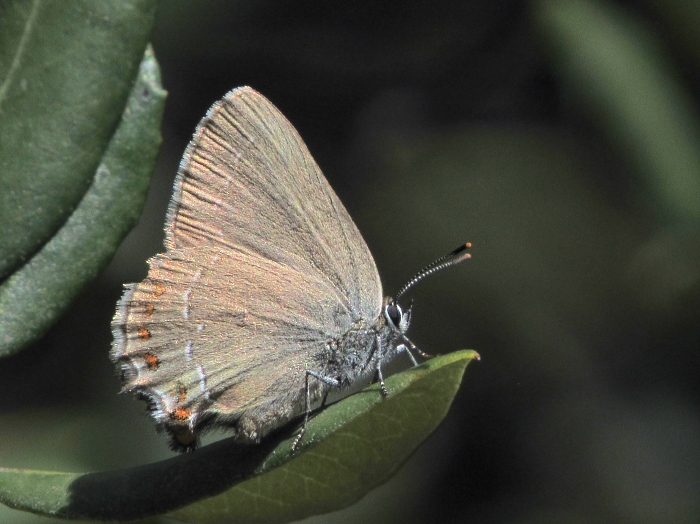 Spain, July 2017
Spain, July 2017
Provence, July 2004
Provence, July 2004
I was videoing this unfortunate false ilex hairstreak in Provence in July 2004 when a wasp zoomed in and plucked it from in front of my eyes
Portugal, June 1992




Distribution

I have only rare contact with this butterfly, restricted as it is to Iberia and the south of France. It is, however, relatively common in these places. My first encounters were on the west coast of Portugal, in 1991 and 1992, on scrubby ground and bushes by the sea. I then saw no more until I visited Roger Gibbons in France in 2004. I was unfortunately 'between cameras' and only took video, including a short sequence in which one false ilex hairstreak was picked up by a wasp as it took minerals at a stream. Then there was another long gap until I saw a few individuals in Aragón in 2017. I will try and get better pictures in future years ...

In the books, this butterfly looks very similar to the ilex hairstreak. It is, however, in no way merely a 'false' version of that species! It has a quite distinct character, especially when ecological considerations are taken into account, and I don't think I've ever been in doubt in the field as to which species I am looking at. The false ilex hairstreak is generally lighter in tone and the hairstreak itself is composed of short, straight segments. These are not folded into deep curves or 'v's at the anal angle. The orange spots are smaller at the anal angle than those of ilex hairstreak and do not diminish significantly in size going up the wing but form an even sequence. They often show a reddish tinge. These characters together make identification easy. There are other features - the strength and length of the marginal white line on the hindwing, for example (stronger and longer in ilex) but in the field these others rarely help much.

Eggs are laid on Holme oak and Kermes oak and it is this stage that passes the winter. Adults fly from May through until August, depending on latitude and altitude.