Grisons Fritillary

Melitaea (Mellicta) varia
---
HOME


Female, Switzerland, July 2014




Female, Switzerland, July 2013




Male, Switzerland, July 2019




Male, Switzerland, June 2017




Fresh male, Switzerland, July 2012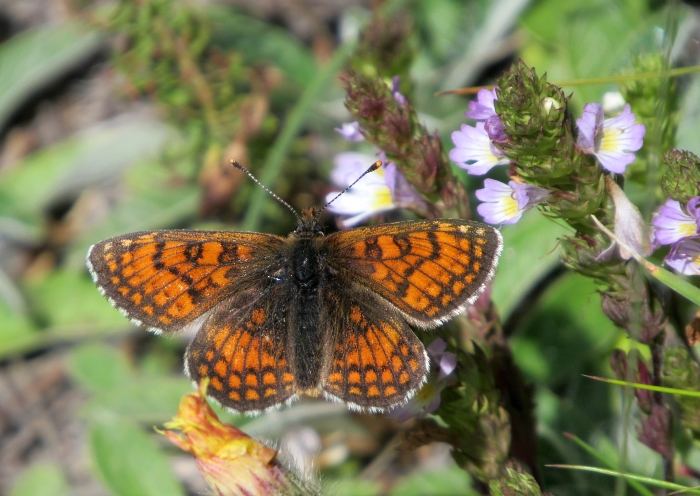 Male, Switzerland, July 2016



Male, Switzerland, July 2015




Dark female, Switzerland, July 2006




Weakly marked male, Switzerland, July 2018

Male, Switzerland, August 2008


Female, Switzerland, July 2011




Female, Switzerland, July 2011
Male, Switzerland, July 2006
Male, Switzerland, July 2006
Male, Switzerland, July 2006
Female, Switzerland, July 2006




Distribution

This is a high-altitude butterfly of sheltered, grassy and flowery slopes, not found below about 2000m in the Alps, though apparently flying lower in the Apennines. Its distribution within its range is patchy; thus, in Switzerland, it flies commonly in Valais but is absent near me, in Vaud. It may or may not be a coincidence that the meadow fritillary flies near me in Vaud but not in Valais. I have never seen both species in the same place.
The Grisons fritillary is very variable. The female, in particular, may be bright orange, like the male, or almost completely dark, resembling a little fritillary (
Melitaea asteria
). Males are weakly marked above, with the post-discal line in particular very thin and sometimes vestigial or even absent. The markings are generally regular and grid-like. The dark, discal mark in s.1 of the forewing is often club-shaped and never oblique (distinguishing this species from the meadow fritillary).
The caterpillars feed on alpine plantain and spring gentians. Like those of other
Melitaea
species, they are gregarious while young and hibernate together, dispersing in later instars. Butterflies are on the wing from the end of June through to August, though the start of the flight period varies from year to year depending on when the snows melt.