Hungarian Glider
Neptis rivularis
---
HOME
Refresh page if pictures don't load fully:
Italy, July 2013
Italy, July 2013
Italy, June 2017
Italy, June 2017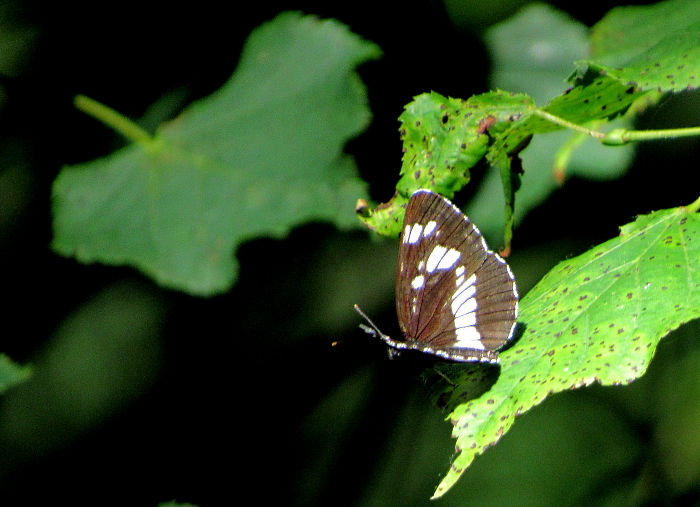 Italy, June 2017
June 2007, Italy
June 2007, Italy
June 2007, Italy
The foodplant, goatsbeard, June 2007, Italy


The foodplant, June 2017, Italy



Distribution


Like the common glider, this species has an easterly distribution in Europe, though it reaches further west into North Italy and in Switzerland is found in Ticino. In my experience, it is generally found where woodland meets running water and its foodplant, goatsbeard, is abundant. It also uses

Spiraea

apparently, but not where I go to look for it. In June and July I find it in many sites along a river valley in North Italy but never far up into the hills on either side. I have very happy memories of standing on rocks in the stream, watching Hungarian gliders dance in and out of the goatsbeard bushes and gliding over the water.

In appearance it is similar to a white admiral, but perhaps more shade-hugging than that species. The underside is plainer, however, lacking any dark submarginal or postdiscal spots on the hindwing, and the pattern of white on the upperside is different. Like the white admiral, and as its name suggests, it is a great glider. It is most easily distinguished from the similar common glider by the single white band on the hindwing, giving it a simple, uncomplicated appearance. The common glider has a further band outside the main band. In common glider this also continues onto the forewing as white spots. The forewing pattern is different too, with the main white band pointing inwards from the base, and so distinct from the apical white, rather than pointing out and joining it.

Unlike common gliders, Hungarian gliders fly in a single brood in June and July. They hibernate as caterpillars, sometimes in a hibernaculum formed at the end of a leaf.