Idas Blue

Plebejus idas
---
HOME


Male, Switzerland, July 2014


Male, Switzerland, June 2014


Male, Switzerland, July 2016

Male, Switzerland, August 2013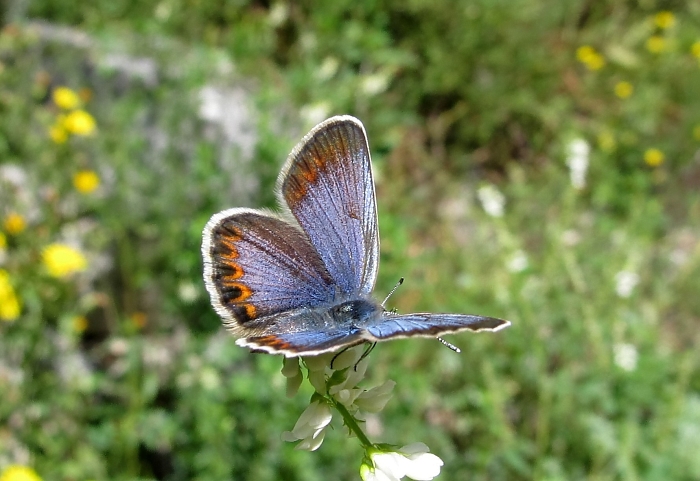 Female, Switzerland, August 2013




Female, Switzerland, September 2010



Female, Switzerland, May 2009

Male, Switzerland, July 2016
Males at mud, Switzerland, August 2016

Switzerland, May 2007
Switzerland, May 2007
Mating pair, Switzerland, May 2007
Here is a very low quality video of idas blues interacting with ants, filmed in Switzerland in June 2007:
Female, Switzerland, 2004 (this individual is exceptionally blue, I think)
Norway


Distribution

This is a widespread butterfly of lowland and mountain, found from the south of Europe right up to the far north. Like many of its close relatives, it is quite sedentary and shows a great variety of regional forms and subspecies. In Switzerland, where I have studied it the most, there is a distinct difference between the lowland subspecies, calliopsis, found in the Rhône Valley, and the mountain forms. This is obvious not so much in the appearance of the butterflies, though the upland ones are typically smaller, but in the habitat. Calliopsis uses sea buckthorn as a foodplant and occurs in hot, dry locations where this plant grows. The upland butterflies use lower-growing herbs in the pea family, as well as heathers, and are commonly found along the flowery edges of grassy, mountain tracks.


The idas blue is very similar to the silver-studded blue. However, the border of the forewing is generally narrower - linear in much of Europe - and the black marks inside the orange submarginal lunules generally sharper. If you get one in the hand, silver-studded blues have a spine of the tibia of the foreleg which idas blues lack. This is not a good field mark! I have noticed that the dark leading edge of the upperside hindwing of the male is less extensive than in silver-studded blue, and in particular that it leaves.6 clear entirely clear. In silver-studded blues at least part of this space is dark.


In southern Europe, idas blues are double brooded, flying in May/June and then again in July/August. Further north, and at altitude, they are single brooded. The books say they fly in July/August but I see them into September in the Rhône Valley of Switzerland.