Lulworth Skipper
Thymelicus acteon
---
HOME
Female, Aragón, July 2017
Male, Switzerland, July 2013
Male, Switzerland, July 2013
Male, Switzerland, July 2012
Male, Switzerland, July 2012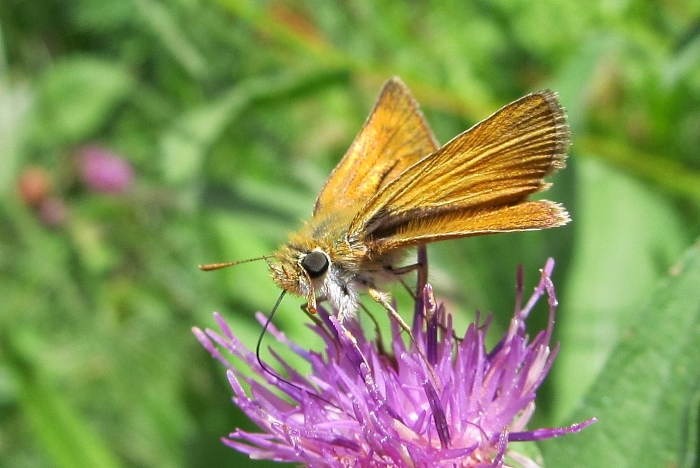 Male, Switzerland, July 2014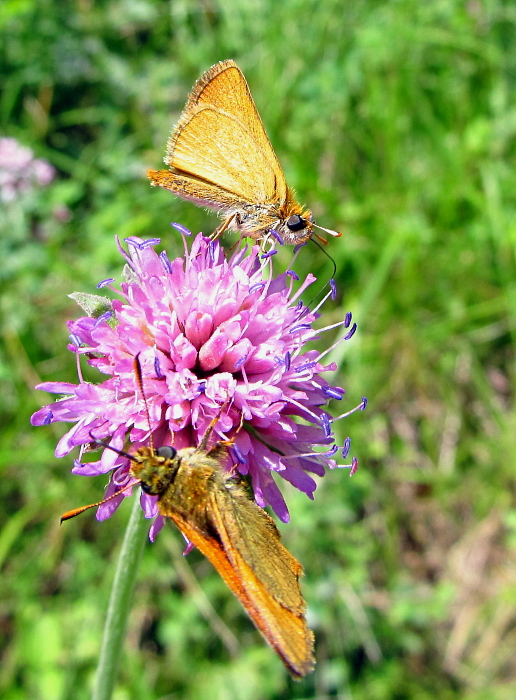 Males, Switzerland, July 2012
Female, Switzerland, July 2010
Female, Val d'Aran, Spanish Pyrenees, July 2011




Female, Val d'Aran, Spanish Pyrenees, July 2011

Male, Val d'Aran, Spanish Pyrenees, July 2007
Male, Val d'Aran, Spanish Pyrenees, July 2008
Female, Lisbon, July 1999




Distribution

This skipper takes its name from Lulworth Cove in Dorset, on the south coast of England, where it was first discovered (as a UK species) in 1832. It still flies there, and in a very small surrounding area. Elsewhere in Europe it is widespread, and often common in hot, southerly locations. I have found Lulworth skippers in Portugal, Spain (the Pyrenees) and Switzerland, where it flies very locally in hot, grassy, flowery places.

The male looks like a very dark small skipper above. He has a hint of the pale crescent seen on the female forewings but it is often barely discernible and actually best viewed from below when the light passes through the wings. It is not rare to find anomalously dark or melanic small skippers, so care should be taken with males to dispel this possibility. The antennae are buff beneath at the tip, like small skipper, but the undersides of the wings are different, being more or less unicolourous golden brown, scarcely darker at the apex of the forewings. This apical area is not well demarcated from the rest of the wing. Females always show a strong, pale crescent on the forewings, set in a dark ground, and are generally very easy to recognise. The male has a long, decurved sex brand, like that of small skipper but unlike that of Essex skipper.

The foodplants are various species of grass and the caterpillar hibernates while small in a silken cocoon on a blade, together with others - several eggs are typically laid on the same plant. In Switzerland, the adults fly in a single generation from the end of June to August, thoug further south they are said to emerge in May.