Marbled White
Melanargia galathea
---
HOME
Male, Switzerland, May 2017
Male, Switzerland, July 2012
Male, Suffolk, UK, June 2020
Male, Suffolk, UK, June 2020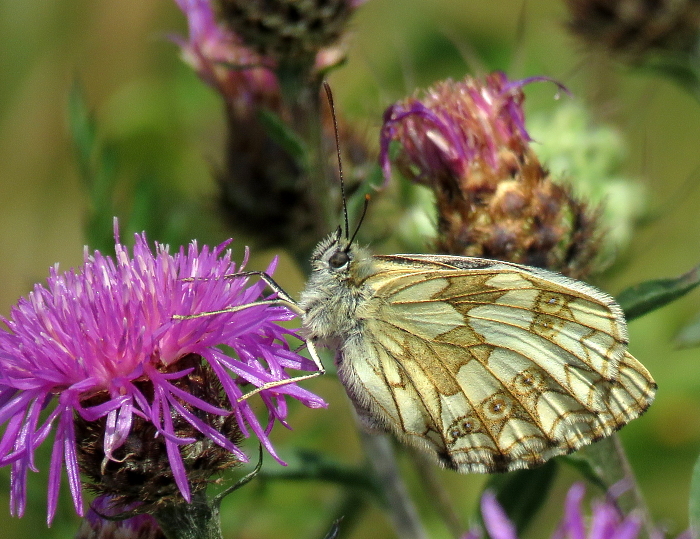 Female, Suffolk, UK, June 2020
Female, Switzerland, July 2019
Male, Suffolk, UK, June 2020


Male, Switzerland, June 2009

Form leucomelas, Provence, July 2004




Final instar caterpillar, Switzerland, May 2014




Final instar caterpillar, Switzerland, May 2014




Distribution
The most widespread and common of the marbled whites, this is a familiar butterfly of summer grasslands throughout most of Europe. Throughout my life, it had been notably absent from East Anglia in the UK until the last few years, when an introduced colony in Ipswich in Suffolk became firmly established. It remains to be seen if the species will spread to other parts of the county. In Switzerland, the first butterflies are on the wing at the end of May - though June is the real start month - and the last at the end of July or the beginning of August. It is predominantly single-brooded everywhere, though partial second broods have been recorded.

Both sexes are black-and-white chess boards above, with a single, solid and strong mark at the end of the cell and no bar across the cell. This distinguishes it from most other European marbled whites. The Iberian marbled white, formerly considered a subspecies of the marbled white, also lacks a cell bar and is the most similar species overall. It is much less strongly marked, however, with little black at the base of the forewings and no black decoration towards the base of the hindwing. Beneath, the marbled white is also easily distinguished from other Melanargia species (except the Iberian marbled white) by the discal band, which is broken at the end of the cell. The Iberian marbled white is paler beneath but otherwise similar. Male marbled whites are etched in grey and black on white on the underside, while females sport various shades of buff, making the sexes easy to separate. An occasional form, leucomelas, has an entirely white underside hindwing.
The marbled white is a grass feeder, using a variety of species from various genera - including many common grasses. It hibernates as a caterpillar. Mature caterpillars may be seen in May, looking for suitable places to pupate.