Meadow Fritillary

Melitaea (Mellicta) parthenoides
---
HOME


Male, Switzerland, April 2014




Male, Switzerland, May 2015




Male, Switzerland, May 2015




Female, Switzerland, June 2016




Female, Switzerland, May 2017




Male, Spanish Pyrenees, July 2011




Male, Switzerland, May 2018




Male, Switzerland, June 2013




Male, Switzerland, April 2011




Male, Switzerland, April 2011
Female, Switzerland, May 2006
Female, Switzerland, May 2006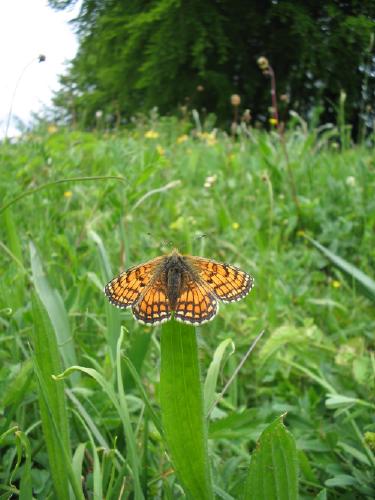 Female, Switzerland, May 2006
Male, Switzerland, May 2007
Male, Switzerland, May 2007
Male, Switzerland, May 2005




Distribution

The meadow fritillary is restricted to south-western Europe, where it is locally common and elsewhere inexplicably absent. In Switzerland, for example, it flies in all the meadows near me in Vaud but is absent from Valais, where it seems to be replaced by the Grisons fritillary. Although all the pictures above are spring butterflies, it actually flies in two broods at my altitude, the first in May and June and the second in July and August. At higher altitudes there is just one brood.
Males in particular are easy to identify. They are bright orange, with large open areas on the hindwing and a characteristically oblique discal mark in s.1 of the forewing. The post-discal line of markings on the forewing upperside is thin and often peters out completely in about s.4, so it is interrupted. In Spain, however, the markings may be stronger on the upperside. The underside is very similar to that of heath fritillary, and I'm not sure I can reliably tell them apart from the underside alone when the forewing is not visible. When it is, the lack of strong submarginal branding in ss.2-3 is distinctive. On upperside and underside, the orange submarginal lunule in s. 3 is barely larger than the others in sequence (distinctly larger in heath and very much larger in knapweed). Females are less bright orange and often two-tone in colour, rather like the nominate subspecies of Provenšal fritillary. The spot in s.1, however, is usually (not always) oblique, as in the male.
The caterpillars feed on species of plantain (
Plantago
). They hibernate gregariously.