Male, Málaga, August 2020
Male, Málaga, August 2020
Male, Málaga, August 2020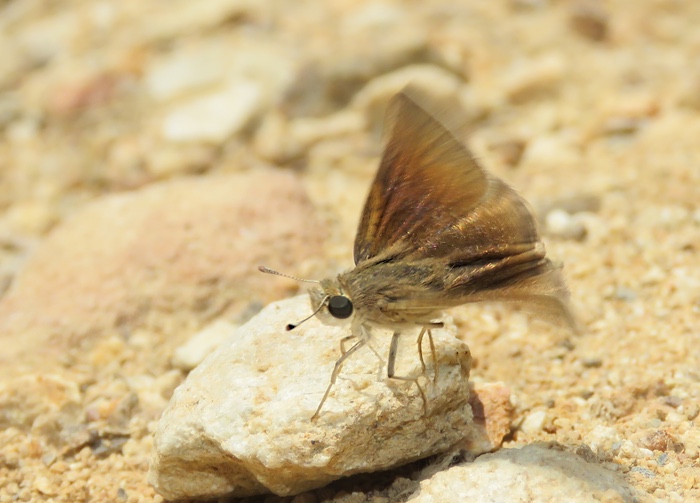 Male, Málaga, August 2020
Male, Málaga, July 2021
Close-up showing the long hairs at the base of the hindwing costa (male only)
Male, Málaga, July 2021
Close-up showing the long hairs at the base of the hindwing costa (male only)
Male, Málaga, August 2020, showing light spotting on the underside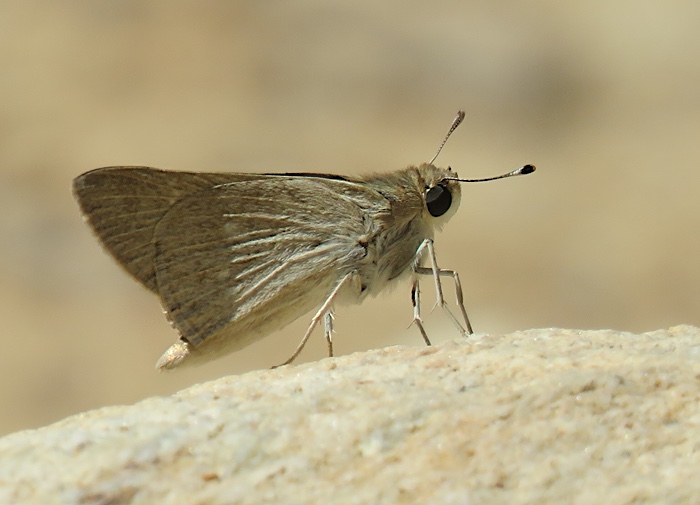 Male, Málaga, August 2020, showing light spotting on the underside
Male, Málaga, August 2020
Male, Málaga, August 2020
Male, Málaga, August 2020
Female, Málaga, August 2020
Habitat, Málaga, August 2020
Distribution
The Mediterranean skipper is widely distributed around the Mediterraean region but very local. It is an extraordinarily fast butterfly - not so much a skipper as a miniature jet fighter! I saw a lot of males at a site near Málaga in August 2020. They were very fixed in their habits, perching on stones along the track and zooming out at any passing butterfly at speeds exceeding the speed of sight - but fortunately usually returning to the same place, or a nearby stone. At the same site I saw just one female, to the best of my knowledge. She was the only one that ever settled for a moment with the upperside visible, and when she flew off she didn't return. In July 2021 I saw none at all at that site but several at a site nearby.
The only butterflies that resemble the Mediterranean skipper are the pygmy skipper (with a similar distribution but absent from Iberia, despite the many books that indicate its presence in the south of Spain) and Zeller's skipper (restricted in Europe to Gibraltar and adjacent regions of Spain). The pygmy skipper is slightly smaller and noticeably darker - the underside of the Mediterranean skipper is very pale. The pygmy skipper also has more obvious pale spots on the underside. Zeller's skipper has prominent spotting on the upperside, but more distinctively, three clearly dark-ringed spots on the underside hindwing. The books point to the long, dense hair-like scales at the base of the hindwing costa of Mediterranean skipper. These are said to be short and sparse in pygmy skipper. The problem is, although these hairs are sometimes visible they frequently are not. Some of the pictures above clearly show males and yet nothing can be seen at the base of the hindwing costa.
Mediterranean skippers fly in two or three generations from April to October. The larval foodplants are grasses, including
Aeluropus
and
Panicum
. The adults fly in hot, stony areas with sparse vegetation from sea level to 1900m.