Mnestra's Ringlet

Erebia mnestra
---
HOME


Male, Switzerland, August 2014


Male, Switzerland, August 2013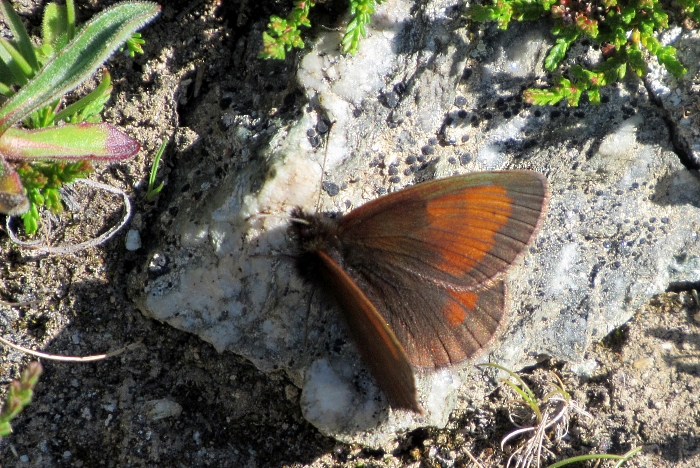 Switzerland, July 2015




Switzerland, July 2015




Switzerland, July 2017




Switzerland, July 2018




Male, Switzerland, July 2011


Male, Switzerland, July 2011
Switzerland, July 2006
Switzerland, August 2008
Switzerland, July 2006
Switzerland, July 2006
Switzerland, July 2006




Distribution
Mnestra's ringlet is an alpine endemic, found locally above 1500m, though typically much higher than this. On the whole, it is not a common butterfly, but where it flies it may be quite numerous and there are places where I can reliably expect to see it in July.
The upperside is similar to that of silky ringlet, though the reddish band on the forewing extends further in towards the cell in a distinctive pattern. Typically, especially in the male, there are no apical spots on the forewing, but individuals with one or even two spots are not that unusual. The underside hindwing is smooth and dark - essentially unmarked in the male but with a diffuse, paler band in the female. This distinguishes it from the silky ringlet, which has a roughly marbled underside hindwing.
The caterpillars feed on fescues and hair grasses. Some hibernate twice, completing their development in two seasonal cycles, while others hibernate just once. This seems to be dependent on locality and altitude. The flight season is quite short, from the beginning of July to about the middle of August.