Nickerl's Fritillary

Melitaea (Mellicta) aurelia
---
HOME
Refresh page if pictures don't load fully:
Female, Switzerland, June 2013


Female, Switzerland, June 2013




Male, Switzerland, April 2017


Male, Switzerland, May 2012




Female, Switzerland, May 2011




Male, Switzerland, May 2011


Switzerland, May 2011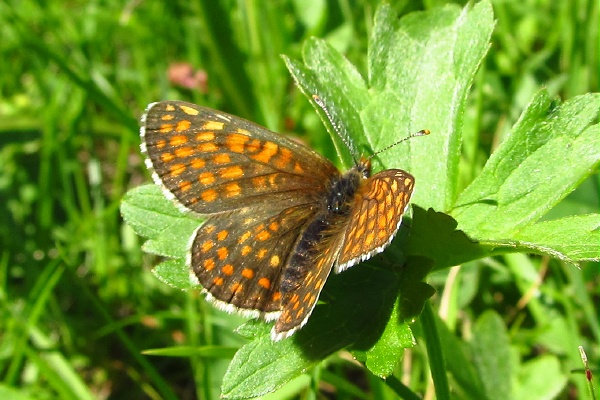 Switzerland, May 2011
Switzerland, May 2009
(thanks to Jerry for help editing this picture)

Switzerland, May 2009
Switzerland, May 2009
Switzerland, May 2009




Distribution

This fritillary is widespread but local, and in Switzerland rather scarce. I only know it from one site, though I am aware of others. At this site - several adjacent grassy meadows at about 900m - it is quite common in May and June and I don't really know what is so special about the habitat just here. The meadows are mostly cut for hay (though some are grazed by goats) but this is quite normal in the Alps. I have a suspicion Nickerl's fritillary is simply not very good at dispersing. It doesn't fly in other meadows nearby, separated by a wooded escarpment and a road but in many respects similar, and it may be this is just a very sedentary butterfly, slow to respond to changing cycles of land use.

Identification is not always easy. Nickerl's fritillary itself shows little variation and is quite distinctive when you get to know it, but the heath fritillary, which often flies in the same places, is far from constant, and sometimes its markings come close. I find the flight be helpful. Nickerl's fritillary is not a strong flier and tends to flap rather ineffectually around meadows rather than cruising over them like heath fritillaries. It is on average smaller and darker than a heath fritillary, another feature surprisingly evident in flight. The markings above are typically regular and gridlike and the pattern on the hindwing is characteristic (though sometimes heath fritillaries show a similar patten). Books refer to the colour between the two marginal lines on the underside, which is slightly darker than the colour of the lunules. I have seen heath fritillaries that also show this - and which I erroneously identified as Nickerl's fritillary when I relied on this character - so it should only be used to disprove Nickerl's when absent. On the other hand, it is a useful point of separation from Assmann's fritillary, which consistently has a still darker colour here. In other respects, Nickerl's fritillary is very similar to Assmann's.
The foodplant is ribwort plantain. The caterpillars feed and hibernate gregariously, then disperse in later instars before pupating. Adults fly in a single brood from May to August, though I have seen individuals in April in Switzerland and never later than mid-July. There are said to be two broods locally in Italy.