Orange Tip

Anthocharis cardamines
---
HOME


Male, Switzerland, May 2013, with a wood white


Female, Switzerland, June 2013


Male, Switzerland, April 2018




Female, Switzerland, April 2018


Female, Suffolk, UK, May 2019




Male, Suffolk, UK, April 2019




Female rejecting male, April 2017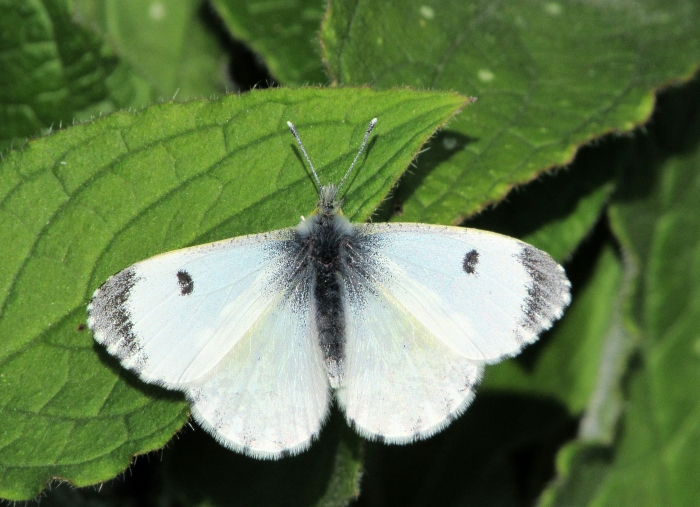 Female, Switzerland, April 2017




Male, Switzerland, April 2018




Male, Switzerland, April 2017




The same male, Switzerland, April 2017



Female, Switzerland, April 2013


Male, Switzerland, May 2013



Female, Suffolk, UK, April 2007
Female, Suffolk, UK, April 2007


Male, Switzerland, July 2016

Male, May 2006
Female, May 2006
Female, May 2006


Aberrant male, lacking black markings, Switzerland, July 2013




Newly laid egg - greenish white - Suffolk, UK, April 2020





The eggs turn orange after a while




Suffolk, UK, April 2020




Newly hatched larva, Suffolk, UK, May 2019




First instar larva, Suffolk, UK, May 2019




Older 1st instar larva, Suffolk, UK, May 2019




2nd instar larva, Suffolk, UK, May 2019




4th instar larva, Suffolk, UK, May 2020




5th instar larva, Suffolk, UK, May 2020




5th instar larva, Suffolk, UK, June 2020




Larva fully silked-up, prior to pupation, Suffolk, UK, June 2020




Larva on morning of pupation, Suffolk, UK, June 2020




Halfway through shedding the larval skin, Suffolk, UK, June 2020




Larval skin shed, Suffolk, UK, June 2020




Freshly formed pupa, Suffolk, UK, June 2020




The same pupa, some days later




Distribution



The orange tip is the spring butterfly par excellence. As the hedgerows burst into flower, so these delicate and beautiful insects begin to flit along them, occasionally resting on garlic mustard or other plants to feed briefly before moving on. At low altitudes, the last individuals may be seen in June but in the mountains, where they emerge a little later, fresh males are still flying in July.

The males are unmistakeable, even at a distance, with their brilliant orange tips. All other male orange tips of the genus

Anthocharis

have at least some bright or dullish yellow on the wings.In the far south of Spain the desert orange tip,

Colotis evagore

, flies. This lacks the green marbling beneath. Also in Spain the very local sooty orange tip,

Zegris meridionalis

may be found. This is generally much duller, with a more subdued, marbled green on yellow underside.Female orange tips, though superficially like other whites, are also easily distinguished if the distinctive mottled underside is seen. The upperside pattern is sufficiently different, too, for ready identification given a good view.

Orange tips lay their eggs principally on garlic mustard or cuckoo flower, though other crucifers may be used too. The caterpillars feed in the flower and then seed heads, before pupating on stems, where they uncannily resemble thorns. They hibernate as pupae, ready to emerge fresh and joyous in the spring.