Pearl-bordered Fritillary
Boloria (Clossiana) euphrosyne
---
HOME
Male, Switzerland, May 2018


Male, Switzerland, May 2014




Female, Switzerland, May 2014




Female, Switzerland, April 2017




Male, Switzerland, April 2017




Female, Switzerland, July 2016




Male, Switzerland, June 2014




Switzerland, August 2014




Female, Switzerland, July 2013




Male, Switzerland, June 2013




Female, Switzerland, June 2012


Switzerland, May 2005
Switzerland, May 2005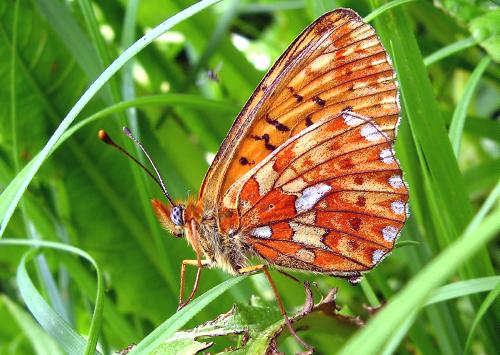 Switzerland, June 2009
Taking minerals, Switzerland, May 2009


At bugle, its favourite plant. Switzerland, May 2009.


Distribution


This is the most widespread and familiar of the

Boloria

species. It flies from late April or early May in most of Europe (from late May in the north and at altitude), typically in a single brood but with a weaker second brood in hotter areas. Although a woodland species, most often seen flying along spring rides and nectaring on bugle and other flowers, it reaches up into the mountains and can be found on flowery alpine slopes well away from the nearest trees.

Males are a rather bright orange above, with characteristic 'floating triangles' around the borders, rather than closed arches. Altogether, this gives them an open, spotty appearance, unlike the linear appearance of small pearl-bordered fritillaries. In females - which are generally larger and less bright - the triangles (or chevrons) often touch the border, enclosing discrete spots, more like small pearl-bordered. Another useful feature from above is the distribution of spots in s.2 of the forewing. In pearl-bordered, the inner mark, near the cell, is relatively large, and the post-discal spot never seems terribly far away from it, dividing the space to the submarginal triangle in a ratio between 1 : 1 and 2 : 1. In small pearl-bordered, the post-discal spot looks further away, dividing this space in a ratio of (typically) more than 2 : 1. Beneath, the two species are readily separated. The pearl borders of the pearl-bordered fritillary are edged internally by red chevrons, with reddish post-discal spots inside that. In small pearl-bordered fritillary the pearly are edged in black, with black post-discal spots.

The caterpillars feed on violets of various species, including the familiar dog violets and early dog violets, as well as sweet violets. Although in hot parts of Europe some may complete their development the same year, flying in August and September, most go into hibernation relatively soon and feed up the following spring.