Southern Gatekeeper

Pyronia cecilia
---
HOME
Female, Córdoba, July 2017
Female, Córdoba, July 2017
Male, Aragón, July 2011
Male, Aragón, July 2011
Female, Aragón, July 2011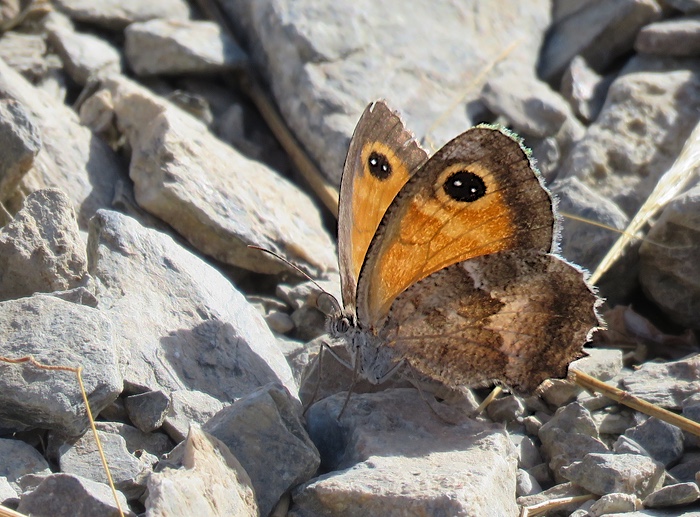 Female, Málaga, August 2020
Female, Aragón, July 2011
Female, Málaga, August 2020
Male, Aragón, July 2011 - colour variant similar to eastern populations
Distribution
A common butterfly in Iberia, the southern gatekeeper is much more scattered and local in more easterly parts of its range. It is a butterfly of hot, grassy places, often seen along dusty tracks and on the edge of cultivation but also in open, hilly country. I know a grassy site in Aragón where it flies together with gatekeepers and Spanish gatekeepers.

This species is similar to the gatekeeper but easily identified by the rough-textured grey, brown and white underside, with a large, white 'Y' pattern in the postdiscal region of the hindwing. The hindwing underside also lacks the spots of gatekeeper (and Spanish gatekeeper). The upperside of the female is similar to that of a female gatekeeper, though there is much less dark suffusion at the base of the hindwing, but the male has a different sex brand - rectangular in shape and broken up along the veins. The Spanish gatekeeper has a quite different underside, with a cream band inside orange-ringed, white-pupilled spots, and spots on the upperside hindwing. The male Spanish gatekeeper has an entirely dark basal region to the forewing, enclosed by the sex brand.

The caterpillars eat a variety of grasses, but precisely which is not well established. They are not as eclectic in their tastes as gatekeepers. The adults fly in a single generation from June to August and it is the caterpillar that hibernates.