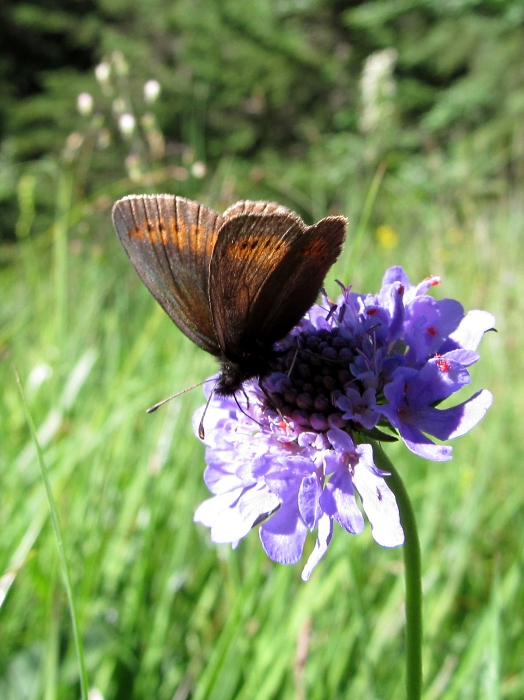 Switzerland, August 2013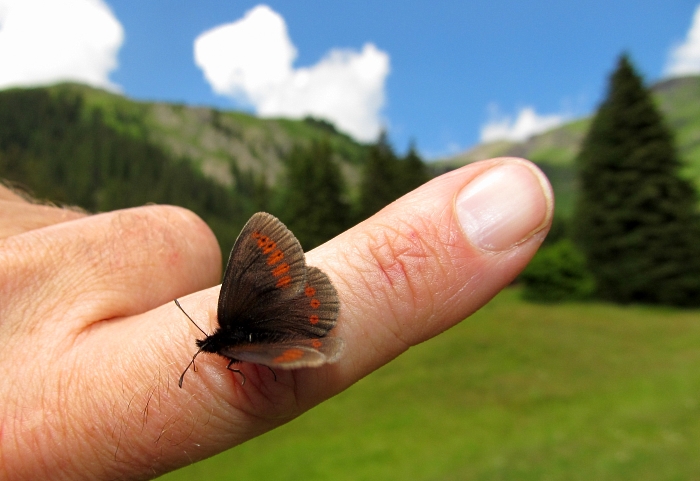 Switzerland, July 2014
Switzerland, July 2014 - the camera is a friend's - I got the better deal there!
Switzerland, August 2013 - the series of dark spots in the forewing is complete, including the foremost red patch
Switzerland, August 2013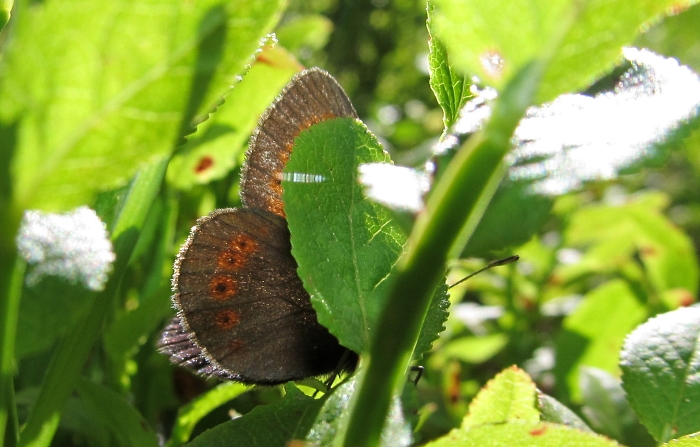 Switzerland, August 2013, showing how the spots on the hindwing form a regular series
Switzerland, August 2013 - the dark pupils in the hindwing spots may be vestigial
Switzerland, August 2013
This one was drawn to the sweat on my backpack - Switzerland, August 2013
The same individual in different light, showing the complete, regular series on the hindwing.
Distinction from lesser mountain ringlet
As the map shows, this local and sedentary species has a very scattered distribution, with often hundreds of kilometres between its small populations. This makes it particularly vulnerable and at risk of extinction if its existing colonies are not protected. In Switzerland it is known only from one small area, where it is apparently declining - but I cannot imagine it being allowed to disappear there. It is also found very locally in France and is more widely but still very locally distributed in Eastern Europe. It is a medium-altitude, subalpine and alpine butterfly (I found it at about 1600m), favouring areas with long grass and flowers. It was reasonably common throughout the small area in which I found it.
Despite its similarity to the lesser mountain ringlet,
Erebia melampus
, it is actually quite a distinctive butterfly and I had absolutely no difficulty recognising the species when I first saw one. That said, the dark ocelli, which are referred to as being in complete series in the books, can be very faint and not visible in all lights. The most useful character is the extra apical spot, illustrated in the last image above. It may be absent in some individuals but in my experience is never present in the lesser mountain ringlet and is generally a good guide. If you find it in several individuals in a population, you know you have Sudetan ringlet.
The Sudetan ringlet flies in a single brood from late June until August - when in Switzerland, its hay meadows are cut. It favours sheltered areas with long grass. The caterpillars feed on sweet vernal grass and it is in this stage that it hibernates.