Swiss Brassy Ringlet

Erebia tyndarus
---
HOME


Male, Switzerland, September 2014




Switzerland, July 2019



Male, Switzerland, September 2014




Switzerland, July 2017




Mating pair, Switzerland, September 2014




Female, Switzerland, September 2014




Female, Switzerland, September 2014




Female, Switzerland, August 2014




Switzerland, August 2014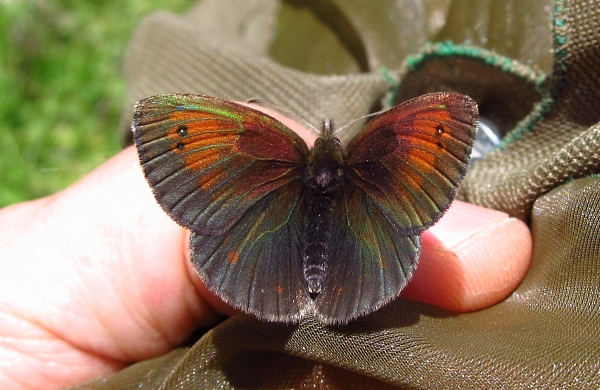 Switzerland, July 2012




Switzerland, September 2010
Switzerland, August 2013
Switzerland, July 2006
Female, Switzerland, July 2008
Switzerland, July 2006
Switzerland, July 2006




Distribution

The Swiss brassy ringlet is restricted to the Alps, where it is locally common from medium altitudes right up to the summer snowline. It is said that only one species of brassy ringlet flies at any site, and in my experience this is largely true. On my local mountain, the common brassy ringlet flies and I have never seen Swiss brassy ringlet. But not far away, on the Massif du Muveran, only the Swiss brassy ringlet flies. The butterflies appear on the wing in July and fly through into September in a single generation - seemingly commoner later in the year, perhaps suggesting individuals are long-lived (so the numbers grow cumulatively).

Males have a strong brassy reflection, very visible in some lights and at some angles. Females generally appear plain, though there are slight brassy reflections. The two eyespots on the forewing are generally small and separated, and there are no - or tiny - spots on the hindwing. Both these features help to separate this species from the common brassy ringlet (apical eyespots touching, and strong spots on the upperside hindwing) and de Lesse's brassy ringlet (apical spots separated by a hair, and spots on hindwing always present but not as strong as those of common brassy ringlet). The grey marbling of the underside hindwing - characteristic of brassy ringlets - is very variable and may be highly contrasting or essentially plain.

The foodplants are grasses, including mat grass and sheep's fescue. The caterpillars hibernate, completing their development in one seasonal cycle - like the common brassy ringlet but unlike de Lesse's brassy ringlet, which takes two.