Swiss Zephyr Blue

Plebejus (pylaon) trappi
---
HOME


Male, Switzerland, June 2014




Male, Switzerland, June 2014
Mating pair, Switzerland, July 2013 (female on right)


Male, Switzerland, May 2011


Male, Switzerland, May 2011


Male, Switzerland, JUne 2017


Female, Switzerland, June 2017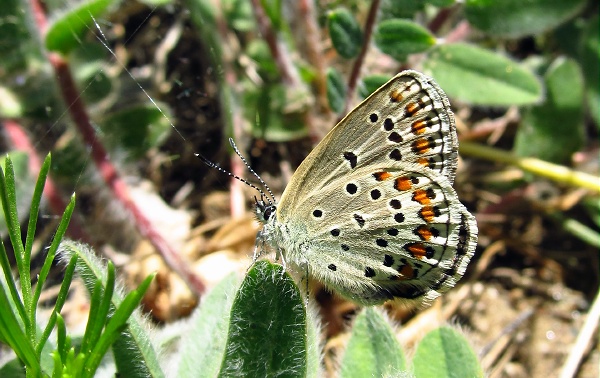 Female, Switzerland, June 2011
Female, Switzerland, June 2010
Switzerland, June 2006
Switzerland, June 2006
Switzerland, June 2006
Switzerland, June 2006
Switzerland, June 2005
Switzerland, June 2005
Switzerland, June 2003, on the foodplant
Mating pair, Switzerland, June 2003
Female, Switzerland, June 2003


Distribution


Plebejus

trappi, which flies in Switzerland, was once regarded as a subspecies of a widespread but local species,

Plebejus pylaon

, the Zephyr blue . That species has now been split into several distinct species in central, southern and eastern Europe, namely

hespericus

(Spain),

sephirus

(the Balkans and eastern Europe),

pylaon

(Russia and eastwards) and

trappi

(the Swiss Alps and adjoining areas of France and Italy. Unfortunately the only one of these I have seen is

trappi

. All species in this group can be separated from the similar idas, silver-studded and Reverdin's blues by the generally larger size (very variable, but certainly true for

trappi

) and the absence of silver scaling in the submarginal black lunules on the underside of the hindwing (though in fact it looks quite different from them in the flesh when you get your eye in). This particular species is also often found on its foodplant, Astragalus exscapus, though males may wander to communal drinking spots and may also be seen on other nectar-bearing flowers.

In Switzerland this species is very local but relatively easy to find if you know where to look. The habitat is typically rather shady grassy areas, often near woods. Both males and females may be found on and near the foodplant, Astragalus exscapus, but males will wander some distance to communal drinking spots and also readily take nectar. The species hibernates as a small larva near the base of the foodplant and flies in June - sometimes late May.