African Grass Blue

Zizeeria knysna
---
HOME
Refresh page if pictures don't load fully:


Male, Málaga, March 2011
Male, Málaga, March 2011
Male, Málaga, March 2011


Male, Málaga, April 2019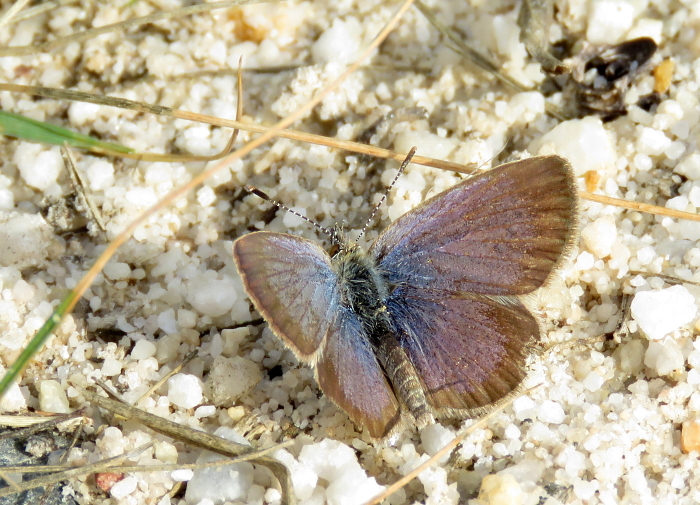 Male, Málaga, April 2019



Female, Córdoba, July 2017


Female, Málaga, March 2011




Female, Málaga, March 2011


Aberrant female, with much reduced markings on the underside, Málaga, March 2013




Distribution


This is a butterfly of damp coastal gullies in southern Europe, North Africa and the Canaries. In many areas, especially in popular tourist destinations like the Costa del Sol, its natural habitat has been mercilessly destroyed by human development, but fortunately this is a species that thrives in the more artificial environment of towns. In fact, I have only once found it in anything approaching a wild environment - on the coast of La Palma. All my other localities are within the confines of cities and towns. In Córdoba, for example, far from the coast, it is to be found on irrigated and sprinkled grass near the river. It is sad that so many wild colonies have been eradicated but overall the species does not seem threatened at the moment.

There is no real possibility of confusing this species with any other except its close relative, the dark grass blue,

Zizeeria karsandra

. To the best of my knowledge there is no overlap in distribution between the two butterflies, though the situation in Malta is unclear. A local lepidopterist assures me only

knysna

flies there, while some other sources say it is

karsandra

. Both sexes are tiny - far smaller than any other blue you might expect to see in the same habitat. The male is a deep violet blue colour on the upperside, with broad dark borders, while the female is all brown, sometimes with blue basal suffusion. The sexes are similar beneath, showing no submarginal orange and having a forewing cell spot. They are inconspicuous butterflies, often staying low among grasses and trackside vegetation.

I have seen African grass blues as early as February in Spain and they are said to fly into October. In the Canaries they are on the wing all year round. They take a variety of foodplants, including but not restricted to medicks and other members of the pea family.

As a point of trivia, there are three tropical and subtropical genera of grass blue all beginning with

Ziz...

, namely

Zizeeria

,

Zizula

and

Zizina

. I imagine this is not a coincidence but I do not know what the significance is.