Mountain Dappled White

Euchloe simplonia
---
HOME
Switzerland, May 2016
Switzerland, May 2018
Switzerland, April 2011
Switzerland, April 2011




Hostplant growing by the roadside, Switzerland, May 2016




Rocky gully with scattered hostplant, Switzerland, May 2018



Switzerland, April 2011
Switzerland, May 2013




Switzerland, May 2013



Switzerland, May 2010
Switzerland, June 2006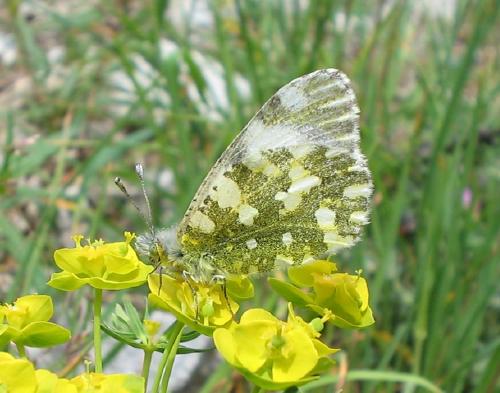 Switzerland, June 2006
Simplon Pass, June 2003 - individual with greatly reduced underside markings.

Simplon Pass, June 2003




Freshly laid egg, Switzerland, June 2010




Older egg, Switzerland, May 2013




Hatched egg, Switzerland, April 2011




Distribution

This is one of a complex of four very similar butterflies spread over the southern half of Europe, the others being the western and eastern dappled whites, Euchloe crameri and E. ausonia, and the Corsican dappled white, E. insularis. It can be seen from May, or very occasionally April, through to July or even August at altitude. Unlike the others, which put in two or three broods in this time, the mountain dappled white flies in a single brood. It favours sparsely vegetated, rocky gullies and slopes where its foodplant (in my part of Switzerland, Erucastrum nasturtiifolium) grows, but can also be seen in lusher areas.

All four species are distinguished from the otherwise similar Portuguese dappled white, E. tagis, by the costa of the hindwing, which is conspicuously angled in the middle. It is harder to distinguish them from one another. This species, the mountain dappled white, is best known by its habitat and altitude but it is also useful to note that the black mark at the end of the forewing cell usually bleeds a little along the costa. It does not do this in the others.

At my local site, at relatively low atlitude, males may be seen roding in May and early June, following large circuits during which they stop briefly on any foodplant - less often on other plants. Females do not rode but are also most easily found by waiting at the foodplants, which they will visit to nectar and lay eggs. These are placed carefully on unopened flower buds. They are bright blue when first laid, quickly turning to yellow. The caterpillars feed up on the ripening flowers, and then the seed heads, before hibernating as a pupa. It is said the pupae may wait two seasonal cycles before they hatch.