Male, Aragón, July 2011
Males, Aragón, July 2017. The one in the centre is typical
ripartii
.
The other two are what I identify as ssp.
agenjoi
, though this is problematic.
Male, Aragón, July 2011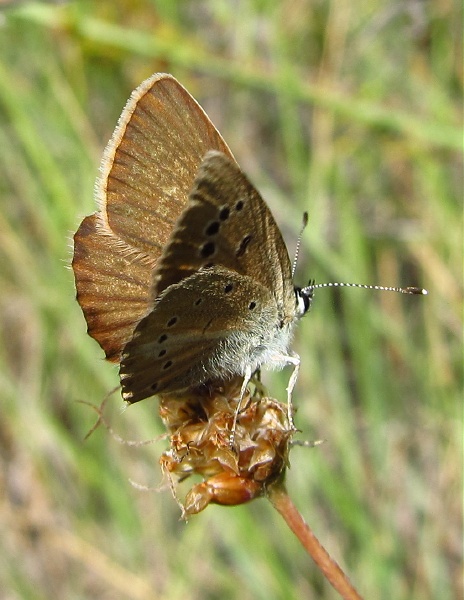 Male, Aragón, July 2011
Female, Aragón, July 2011
Female, Aragón, July 2011
Female, Aragón, July 2011
Distribution
This is the most widespread of the anomalous blues, though some of its scattered populations have historically been ascribed specific status (and still are by some authors). I have only seen it in Spain, in a region where two subspecies seem to overlap. This is problematic and I am unsure what is really going on. The individuals on this page correspond to classic, Spanish
ripartii
. Others, which I illustrate on my
agenjoi
page, match the descriptions of that taxon (formerly considered a species) exactly. These are on average slightly smaller and have shorter white stripes on the underside. Most likely, this is simply a very variable species even within one location.
Both male and female anomalous blues are plain brown above. Where only one species flies, this makes males easy to identify because males of other, closely related groups, such as furry blues, are blue above. Male Ripart's anomalous blues have a prominent white streak on the underside hindwing and are usually a rather powdery white in colour beneath both wings. The upper surface of the forewing has striking androconial cells, clearly visible in the first picture above and even more clearly in my pictures of
Agenjo's anomalous blue
. Females are harder to identify, especially when they fly (as they did where I found them in Spain) in the company of Forster's furry blues. I have studied hundreds of pictures of both species (of pinned specimens, so ID confirmed) and although I have noticed statistically significant differences I have found nothing that always works. I believe the pictures of females above are of Ripart's anomalous blue but all were flying in the company of Forster's furry blue.
The species flies in a single brood from June to August in grassy, flowery places where the foodplant, various species of sainfoin, grows.The caterpillar hibernates while small, presumably to avoid the dessicating heat of the southern European summer.